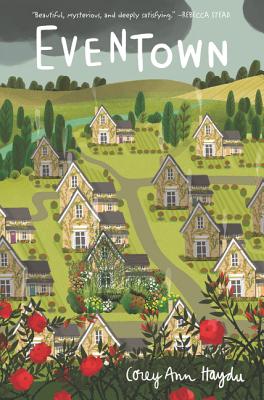 $16.99
Email or call for price.
Spring 2019 Kids Indie Next List
---
"Twins Elodee and Naomi's world has been rocked by something the reader only gradually begins to understand. When their mom finds a job in Eventown, the whole family moves there believing a fresh start will help them right their world again. As the name suggests, everything and everyone is 'even' in Eventown — there are no messy feelings, no messy projects, and everything is 'perfect.' While Naomi and her parents readily turn in their 'stories' at the welcoming center, Elodee is less willing. Eventually, Elodee and others bust open the secrets of Eventown. This is a good story for encouraging kids to feel all the feels, even when they're hard or sad."
— Shirley Freeman, Bookbug, Kalamazoo, MI
Description
---
Kirkus Best Books of 2019 * Kids' Indie Next Pick List * Bookpage Best Books of 2019: Middle Grade
"Beautiful, mysterious and deeply satisfying." —Rebecca Stead, Newbery Medal-winning author of When You Reach Me and Goodbye Stranger
The world tilted for Elodee this year, and now it's impossible for her to be the same as she was before. Not when her feelings have such a strong grip on her heart. Not when she and her twin sister, Naomi, seem to be drifting apart. So when Elodee's mom gets a new job in Eventown, moving seems like it might just fix everything.
Indeed, life in Eventown is comforting and exciting all at once. Their kitchen comes with a box of recipes for Elodee to try. Everyone takes the scenic way to school or work—past rows of rosebushes and unexpected waterfalls. On blueberry-picking field trips, every berry is perfectly ripe.
Sure, there are a few odd rules, and the houses all look exactly alike, but it's easy enough to explain—until Elodee realizes that there are only three ice cream flavors in Eventown. Ever. And they play only one song in music class. Everything may be "even" in Eventown, but is there a price to pay for perfection—and pretending?
"Engrossing." —New York Times Book Review
"Enchanting, heart-rending, and bittersweet." —Kirkus Reviews (starred review)
"An emotionally complex and wonderfully told story." —School Library Journal (starred review)
"Thought-provoking." —Publishers Weekly (starred review)

About the Author
---
Corey Ann Haydu is the author of Eventown, The Someday Suitcase, and Rules for Stealing Stars and four acclaimed books for teens. She grew up in the Boston area, earned her MFA at the New School, and now lives in Brooklyn, New York, with her dog Oscar. Find out more at www.coreyannhaydu.com.
Praise For…
---
"Would life be better if we could forget the past? That's the question Corey Ann Haydu poses in her engrossing Eventown. With its embedded questions about the consequences of erasing all your problems, Eventown will doubtless hit many a middle grade reader's sweet spot."
— New York Times Book Review

"A wonderful and inventive story about being a kid in an imperfect world—beautiful, mysterious, and deeply satisfying."
— Rebecca Stead, Newbery Medal-winning author of When You Reach Me and Goodbye Stranger

★ "At once enchanting, heart-rending, and bittersweet."
— Kirkus Reviews (starred review)

★ "An emotionally complex and wonderfully told story."
— School Library Journal (starred review)

★ "[A] thought-provoking novel... [A] memorable and brave heroine."
— Publishers Weekly (starred review)

"Readers will feel for the brave, unconventional Elodee, who both affirms her individuality but also feels the loneliness of it... A hope-tinged tale about the long aftermath of tragedy."
— ALA Booklist

"Haydu brings a different dimension with real poignancy... less The Giver and more Pleasantville... [Eventown] will reel in readers looking for family dramas as well as those seeking a little ideological stretching, and it will leave them with plenty to discuss about the price of walling yourself off from pain."
— Bulletin of the Center for Children's Books

"A marvelous defense of messiness, mistakes, and uncomfortable conversations ... this book is pure Eternal Sunshine of the Spotless Mind meets Pleasantville."
— Betsy Bird of Fuse 8

"Corey Ann Haydu doesn't shy away from tough topics in her books. Eventown is no exception."
— Time for Kids

"[An] original, thought-provoking and engaging novel exploring how our stories shape us and can help us heal from even the most terrible loss... Haydu offers an inspired creation in the "perfect world" of Eventown."
— Buffalo News

Praise for The Someday Suitcase:
"A touch of magic, the promise of snow, and so much love I can barely keep it together to write this sentence. I know Clover and Danny will stick with me for a long, long time."
— Kate Milford, New York Times bestselling author of The Greenglass House

"Beautiful, true, and magical. This book touched my heart."
— Lauren Myracle, author of the Wishing Day series

★ "Quietly superb prose...Haydu doesn't romanticize illness, but she provides comfort through art, science, magic, love, and a purple suitcase. A sharp, clear-cut piece that knows life is beautiful and sickness isn't."  
— Kirkus Reviews (starred review)

★ "Haydu's second middle-grade novel is poignant and powerful. A heartbreaking story about the healing power of friendship amid human fragility."  
— Booklist (starred review)

★ "In this moving, exquisitely written story, Corey Ann Haydu explores the thin line between science and magic within an intense bond of friendship."
— Shelf Awareness (starred review)

"Haydu does not shield readers from hard truths, creating complex characters who face difficult situations. This sensitive work will strike an emotional chord with middle-graders."
— School Library Journal

Praise for Rules for Stealing Stars:
★ "A well-crafted blend of realism and fantasy."
— School Library Journal (starred review)

★ "[A] lyrical story of love and loss. The way the sisters fight and love in equal measure, as well as their basic need for one another, rings poignantly true in this touching and heartwarming story, which contains a 'tiny bit of magic, right here in the real world."
— Booklist (starred review)

"Haydu makes skilled use of her story's fantastical overlay to create a haunting narrative about the ways family members can fail-but also support-each other."
— Publishers Weekly

"Haydu is a masterful wordsmith."
— Kirkus Reviews

"Tender, wise, and heartbreakingly lovely, this story is as brilliant as a stolen star, and every bit as magical. Prepare to be enchanted."
— Katherine Applegate, Newbery-award winning author of The One and Only Ivan

"A gorgeous, profound, deeply felt book that lovingly explores intricate sibling relationships, the crushing weight of family secrets, and the delicate magic of hope. Rules for Stealing Stars is sublime."
— Anne Ursu, author of Breadcrumbs and The Real Boy

"Silly and her sisters are flesh-and-bone characters; they gripped me by my very heart and pulled me into their tense and mysterious family story. With beguiling moments of magical realism and engaging turns of phrase, Corey Ann Haydu has crafted a glowing middle grade debut."
— Leslie Connor, award-winning author of Waiting for Normal and Crunch