The Thing About Jellyfish (Paperback)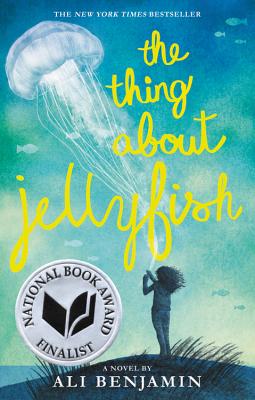 $8.99
Usually Ships in 1-5 Days
Description
---
Now available in paperback, this stunning debut novel about grief and wonder was an instant New York Times bestseller and captured widespread critical acclaim, including selection as a 2015 National Book Award finalist!

Everyone says that it was an accident... that sometimes things "just happen". But Suzy won't believe it. Ever. After her best friend dies in a drowning accident, Suzy is convinced that the true cause of the tragedy was a rare jellyfish sting. Retreating into a silent world of imagination, she crafts a plan to prove her theory--even if it means traveling the globe, alone. Suzy's achingly heartfelt journey explores life, death, the astonishing wonder of the universe...and the potential for love and hope right next door.

Oddlot Entertainment has acquired the screen rights to The Thing About Jellyfish, with Gigi Pritzker set to produce with Bruna Papandrea and Reese Witherspoon.

*"An uncommonly fine first novel." --Booklist, starred review

*"Has appeal well beyond a middle school audience." --Kirkus Reviews, starred review

*"Reminiscent of works by Jennifer L. Holm and Sharon Creech... a shining example of the highs and lows of early adolescence." --Publishers Weekly, starred review
About the Author
---
Ali Benjamin is a National Book Award Finalist for The Thing About Jellyfish, and the co-writer for HIV-positive teen Paige Rawl's coming-of-age memoir Positive as well as Tim Howard's New York Times bestseller The Keeper. She is a member of New England Science Writers and has written for The Boston Globe Magazine, Martha Stewart's Whole Living, and Sesame Street. She lives in Massachusetts.
Praise For…
---
*"A painful story smartly told, Benjamin's first solo novel has appeal well beyond a middle school audience."
—
Kirkus Reviews, starred review
*"Reminiscent of works by Jennifer L. Holm and Sharon Creech, Benjamin's novel is a shining example of the highs and lows of early adolescence."—
Publishers Weekly, starred review
*"Benjamin's sense of timing and delivery is extraordinary, as she blends the visceral experiences of Suzy's journey with an internal dialogue that is authentic and poignant....readers...will fully immerse themselves in this superbly written, heartfelt novel."—
School Library Journal, starred review
*"Benjamin's involving novel features clean, fluid writing that is highly accessible, yet rich with possibilities for discussion.... Her highly individual, first-person narrative makes compelling reading.... An uncommonly fine first novel."—
Booklist, starred review
*"This novel has it all: just-right pacing, authentic voices and characters, beautifully crafted plot, and superb writing. Readers will find that this story lingers with them after the book is closed."—
VOYA, starred review
"There are...a lot of children who might not only benefit from this book but also find themselves deeply moved by it."—
New York Times Book Review
"Seventh-grade narrator Suzy Swanson will win readers' hearts as she silently struggles to come to terms with her complex emotions over the death of her former best friend."—
Shelf Awareness
"A heartfelt read for kids
and
adults."
—
First for Women Magazine