Vibrate Higher: A Rap Story (Hardcover)
Store Suspended
Hi! While BMLP is searching for a new home, we are suspending online shopping through this online storefront. However, you can still support BMLP with online shopping through our Bookshop.org page (click here to be redirected)! You can find the books you want and have them shipped directly to your home. A percentage of each purchase is donated to BMLP and will help us as we transition into our next phase.
We will continue to work to get books into the hands of under-resourced students despite the physical store closing so your contributions continue to make an impact in the lives of children.
Thank you for your continued support of BMLP and the mission to get books into the hands of all children.
With love,
The ManaTeam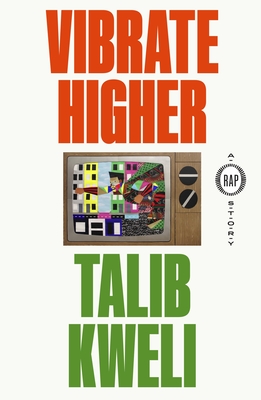 $27.00

In Stock at Our Warehouse. Ships in 2-5 days.
Description
---
LONGLISTED FOR THE 2021 BROOKLYN PUBLIC LIBRARY LITERARY PRIZE

From one of the most lyrically gifted, socially conscious rappers of the past twenty years, Vibrate Higher is a firsthand account of hip-hop as a political force

Before Talib Kweli became a world-renowned hip-hop artist, he was a Brooklyn kid who liked to cut class, spit rhymes, and wander the streets of Greenwich Village with a motley crew of artists, rappers, and DJs who found hip-hop more inspiring than their textbooks (much to the chagrin of the educator parents who had given their son an Afrocentric name in hope of securing for him a more traditional sense of pride and purpose). Kweli's was the first generation to grow up with hip-hop as established culture—a genre of music that has expanded to include its own pantheon of heroes, rich history and politics, and distinct worldview.

Eventually, childhood friendships turned into collaborations, and Kweli gained notoriety as a rapper in his own right. From collaborating with some of hip-hop's greatest—including Mos Def, Common, Kanye West, Pharrell Williams, and Kendrick Lamar—to selling books out of the oldest African-American bookstore in Brooklyn, ultimately leaving his record label, and taking control of his own recording career, Kweli tells the winding, always compelling story of the people and events that shaped his own life as well as the culture of hip-hop that informs American culture at large.

Vibrate Higher illuminates Talib Kweli's upbringing and artistic success, but so too does it give life to hip-hop as a political force—one that galvanized the Movement for Black Lives and serves a continual channel for resistance against the rising tide of white nationalism.
About the Author
---
Talib Kweli is one of the world's most talented and accomplished hip-hop artists. Whether working with Mos Def as one half of Black Star, partnering with the producer Hi-Tek for Reflection Eternal, releasing landmark solo material, or collaborating with Kanye West, Pharrell Williams, Just Blaze, J Dilla, or Madlib, Kweli commands attention by delivering top-tier lyricism, crafting captivating stories, and showing the ability to rhyme over virtually any type of instrumental.

In 2011, Kweli founded Javotti Media, "a platform for independent thinkers and doers." Kweli hopes to make Javotti Media into a media powerhouse that releases music, films, and books.

Kweli is the author of Vibrate Higher: A Rap Story.
Praise For…
---
"A plain-spoken striver's tale that affectingly charts Kweli's rise." —Allison Stewart, THE WASHINGTON POST

"Vibrate Higher: A Rap Story shows how hip-hop inspires alternative education. With a music career spanning over two decades, Kweli has never swayed from themes of Black Freedom" —Darryl Robertson, USA TODAY

"This memoir confirms what [Kweli's] work has communicated for years, demonstrating the sharp, nimble mind of an insatiable cultural omnivore... Whether discussing how he used to cut school to hone his rapping skills in Washington Square Park or recounting how he took his maternal grandmother, "the Obama Mama," as his guest to the White House, Kweli turns back the pages of hip-hop history for music fans and has something to offer readers unfamiliar with his work. By the end of the book, even that latter group will appreciate the author's standing as one of the most respected emcees in hip-hop." —KIRKUS REVIEWS

"[An] outspoken and enthusiastic memoir. Kweli shares his upbringing as a "supernerd" from a middle-class Brooklyn family who went to boarding school and later incorporated Afro-centric philosophy into his "Black consciousness" hip-hop style. He narrates his rise as a whirl of deals and tours...Kweli is effusive about most of the musicians he knows, and waxes mystically about the "vibe"—a blend of social scene and creative ferment—at the metaphysical heart of musical collaboration." —PUBLISHERS WEEKLY

"Talib Kweli is one of the most important voices and minds of our generation. His work across the board always makes me think on a higher level and see things in a new way, and all the while it's done with quality and excellence. This book is an excursion into the minds of one our great ones." —COMMON

"Talib Kweli is a hip hop mirror ball, distributing light everywhere. For years, he's seen things, heard things—worldwide. It bodes the reader well to journey his mind and experiences in this book." —CHUCK D

"Thank you my dear brother Talib for these birth/family memories and your artistic/poetic Now words reminding us that we are indebted to your generation of poets/rappers for continuing the Trinity of Black language/music/and activism. Your brilliant life of poetry reminds us that A Luta Continua." —SISTER SONIA SANCHEZ