The Jazz of Physics: The Secret Link Between Music and the Structure of the Universe (Paperback)
Store Suspended
Hi! While BMLP is searching for a new home, we are suspending online shopping through this online storefront. However, you can still support BMLP with online shopping through our Bookshop.org page (click here to be redirected)! You can find the books you want and have them shipped directly to your home. A percentage of each purchase is donated to BMLP and will help us as we transition into our next phase.
We will continue to work to get books into the hands of under-resourced students despite the physical store closing so your contributions continue to make an impact in the lives of children.
Thank you for your continued support of BMLP and the mission to get books into the hands of all children.
With love,
The ManaTeam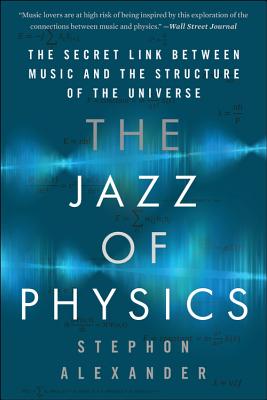 $17.99

In Stock at Our Warehouse. Ships in 2-5 days.
Description
---
A spectacular musical and scientific journey from the Bronx to the cosmic horizon that reveals the astonishing links between jazz, science, Einstein, and Coltrane

More than fifty years ago, John Coltrane drew the twelve musical notes in a circle and connected them by straight lines, forming a five-pointed star. Inspired by Einstein, Coltrane put physics and geometry at the core of his music.

Physicist and jazz musician Stephon Alexander follows suit, using jazz to answer physics' most vexing questions about the past and future of the universe. Following the great minds that first drew the links between music and physics-a list including Pythagoras, Kepler, Newton, Einstein, and Rakim — The Jazz of Physics reveals that the ancient poetic idea of the "Music of the Spheres," taken seriously, clarifies confounding issues in physics.

The Jazz of Physics will fascinate and inspire anyone interested in the mysteries of our universe, music, and life itself.
About the Author
---
Stephon Alexander is a professor of theoretical physics at Brown University, an established jazz musician, and an immigrant from Trinidad who grew up in the Bronx. He is the 2020 president of the National Society of Black Physicists and a founding faculty Director of Brown University's Presidential Scholars program, which boosts underrepresented students. In addition to his academic achievements, he was the scientific consultant to Ava DuVernay for the feature film A Wrinkle in Time. His work has been featured by the New York Times, the Wall Street Journal, WIRED, and many other outlets. He has been a guest on Nova, the "Brian Lehrer Show", and Neil deGrasse Tyson's "StarTalk," among much else. The author of Fear of a Black Universe and The Jazz of Physics, Alexander lives in Providence, Rhode Island. 
Praise For…
---
"I'll forever be grateful to musician/physicist Stephon Alexander.... He'll help you see how our awe-inspiring universe is on a never-ending, cosmological riff."—Felix Contreras, NPR, "Best Books of 2016"

"Interwoven with solid physics and personal anecdotes, the book does an admirable job of bringing together modern jazz and modern physics."—Physics World, Shortlisted for "Book of the Year (2016)"

"In the most engaging chapters of this book -- part memoir, part history of science, part physics popularization and part jazz lesson -- Dr. Alexander ventures far out onto the cutting edge of modern cosmology, presenting a compelling case for vibration and resonance being at the heart of the physical structure we find around us, from the smallest particle of matter to the largest clusters of galaxies.... His report on the state of research into the structure and history of the universe -- his own academic field -- makes for compelling reading, as does his life story."—Dan Tepfer, New York Times

"[Alexander] gives an engaging account of his uncertainties and worries as he made his way in the highly competitive world of theoretical physics, seeking to acquire the 'chops' needed to deal with the formidable mathematics of his day job along with those needed to solo on the sax after dark.... Mr. Alexander's rhapsodic excitement is infectious."—Peter Pesic, Wall Street Journal

"Marvelous."—New Scientist

"The book's attempt to bring together modern jazz and modern physics strikes me as admirable.... It is an intriguing comparison, and it certainly seems fresher than drawing analogies between classical music and classical physics.... Time to put on some Coltrane and riff some new research ideas?—Trevor Cox, Physics World

"Groundbreaking.... [Alexander] illustrates his points with colorful examples, ranging from the Big Bang to the eye of a galactic hurricane."—Down Beat

"Alexander's account of his own rise from humble beginnings to produce contributions to both cosmology and jazz is as interesting as the marvelous connections he posits between jazz and physics."—Publishers Weekly