The Big Activity Book for Anxious People (Paperback)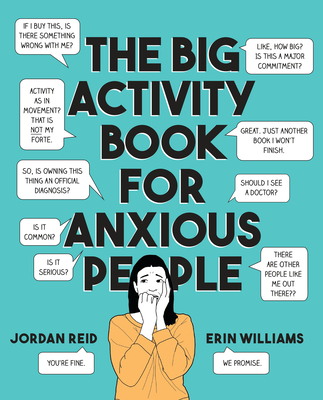 $16.00

In Stock at Our Warehouse. Ships in 2-5 days.
Description
---
Reid & Williams are "funny as hell."--Amy Morrison, founder of Pregnant Chicken

Feeling anxious? Who isn't! Your most irrational (and sometimes rational) fears are hilarious fodder for this sharp and relatable activity book.

These days, anxiety is simply part of the human experience. Part journal, part coloring book, part weird coping mechanisms, and part compendium of soothing facts, The Big Activity Book for Anxious People will be an outlet for anyone who wants to take a break from reality, laugh through her fears, and realize with every page that she is not alone--and to help her figure out what to do when it's 3AM and she's wide awake worrying about whether she cc'ed the right "Bob" on that email. (Probably.)

Activities include:
• Fun Facts about Aging!
• Public Speaking: A Diagram
• Your Hotel Room Carpet: A Petri Dish of Horrors
• Obscure Diseases You Probably Don't Have
• Zen Mantras For The Anxiously Inclined
• Soothing Facts about Hand Sanitizer

On a bad day, try coloring in the soothing grandma. On a really bad day, find step-by-step instructions on how to build an underground bunker. Reid and Williams want everyone to remember that they're in good company: anxious people are some of the funniest and most interesting and creative humans on the planet. (They know, because they are two of them.)
About the Author
---
Jordan Reid is the founding editor of the lifestyle blog Ramshackle Glam and the coauthor of the bestselling Big Activity Book series. Her hobbies include creating unnecessary complications, insomnia, and maintaining an impressive collection of fake plants. She lives in California with her two children, various pets, and a Roomba named Thanos.

Erin Williams is the author and illustrator of five books, including Commute: An Illustrated Memoir of Female Shame and the Big Activity Book series. Her work has appeared in MoMA Magazine, The Believer, Salon, Buzzfeed, and Synapsis, among other publications. She has 10+ years experience in data analysis and scientific research, and has published multiple peer-reviewed papers on healthcare disparities and inequity in medicine. She lives in Westchester with her spouse, daughter, and a one-eyed cat named Peanut.
Praise For…
---
"This book helped me feel less alone in my anxieties, while also laughing at the sheer absurdity of them. Thank you, Jordan and Erin, for giving voice to my silent screams."—Beth Newell, editor/cofounder of Reductress

"I've tried apps, mediation, exercise, mindfulness, doctors, meds, and more to help my ever-growing beast of anxiety but nothing put it into perspective—or made me laugh more—than Reid and Williams' smart, sassy, and absolutely genius The Big Activity Book for Anxious People. From anxiety check-ins to coloring to concrete suggestions for soothers that actually really and truly work, just seeing this book on my desk every morning makes me breathe easier. It should be required reading for everyone I know."—Caroline Leavitt, New York Times bestselling author (and anxious person) of Is This Tomorrow and Pictures of You

"I laughed out loud at every page. Now I feel better about flying in a plane, being trapped in an Uber without cell service, and all the diseases I probably don't have. I want to give this to everyone I know in my Jordan Catalano generation."—Liz Teich, The New York Stylist

"The Big Activity Book for Anxious People gets me out from under my weighted blanket. If I had friends, I would definitely give them this book!"—Ellie Knaus, host of Atomic Moms

"Frickin' hysterical! Who knew my anxiety could be so funny?"—Amy Morrison, founder of Pregnant Chicken

"Anxiety loves company. Or, at least, commiseration. This brilliant, hilarious book of fun will keep you giggling and scribbling your worries away. Since receiving it, I've been too busy to do an in depth internet search, but I hear it's scientifically proven to be just as effective at alleviating self-torment as a heavy blanket, dose of CBD oil, or therapy session. My cuticles, hairline, and digestive system salute Reid and Williams!"—Phoebe Lapine, author of The Wellness Project

"What I love about this guide is a) it gives you something to actually do, other than sit with your angsty thoughts, b) it's funny, not earnest—they poke fun at the cliché of being told 'just breathing' will fix everything—and c) it's subversive and offbeat. As someone with OCD, I personally related to the word scramble on the germiest spots in your hotel room. This book validates real fears while providing solutions that are both helpful and actually enjoyable."—Amy Keller Laird, former editor-in-chief of Women's Health; founder @club_mental

"A valuable tool for any sufferers who are looking for distraction, compassion, and real, viable solutions to our most common anxiety triggers. Therapeutic techniques are shared by way of thoughtful (and fun!) activities, and between the layers of comedy, the authors are gifting readers with a palatable way to digest the reality of mental health issues. And—with their skill, insight and creativity—they have even managed to make it delicious."—Rebecca Fox Starr, mental health advocate, author of Beyond the Baby Blues: Anxiety and Depression During and After Pregnancy

"Comedy might be one of the best instant remedies for anxiety, and The Big Activity Book for Anxious People brings plenty of it. Beyond making us laugh, Reid and Williams remind us anxious people of one powerful thing: we're definitely not alone in this."—Lauren Sweeney, content director, HEYMAMA

"What can I say? This is one of the best books about anxiety. I meticulously read it from front to back exactly one-hundred and thirteen times so that nothing bad would ever happen to my family!"—Wendy Molyneux, writer and producer, Bob's Burgers

"My insouciant inner child was delighted; my anxious outer adult was soothed. And my usually-mangled cuticles would like to personally thank page 89."—Katlyn Carlson

"This book is exactly what it says it is: a big activity book for anxious people! It's got some great activities inside that totally keep me busy, keep my anxiety in check, and truly is a great time suck to keep my mind focused on the activities and an escape from whatever is consuming me those days. Cannot recommend this book enough!!!"—BuzzFeed

"Legit amazing and very relevant right now. It's like they wrote this book knowing what was going to happen."—Jamie Stone, host of A Little Too Much

"Absolutely obsessed… I don't know how it's possible for a person to be so funny. [Jordan and Erin] are geniuses."—Modern Mom Probs