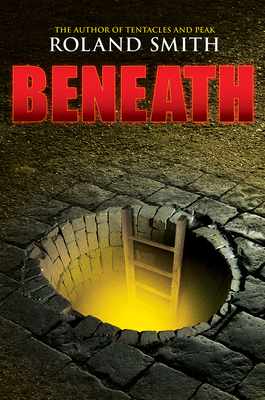 $16.99
In Stock at Our Warehouse. Ships in 2-5 days.
Description
---
Roland Smith, the master of middle-grade adventure, returns with a new novel full of high-speed chases, secret identities, and a dangerous underground world.What waits Beneath?Pat O'Toole has always idolized his older brother, Coop. He's even helped Coop with some of his crazier plans -- such as risking his life to help his big brother dig a tunnel underneath their neighborhood in the suburbs of Washington, DC. Coop is . . . different. He doesn't talk on the phone, doesn't use email, and doesn't have friends. He's never really cared for anything but the thrill of being underground and Pat. So it's no surprise to anyone -- even Pat -- that after a huge fight with their parents, Coop runs away. Exactly one year later, Pat receives a package containing a digital voice recorder and a cryptic message from his brother. He follows the clues to New York City, and soon discovers that Coop has joined the Community, a self-sufficient society living beneath the streets. Now it's up to Pat to find his brother -- and bring him home.
About the Author
---
Roland Smith first worked with animals at the Portland Zoo, and he has been involved in animal rescues and conservation work around the world for more than twenty years. He is the author of numerous books for young readers, including JACK'S RUN, ZACH'S LIE, CRYPTID HUNTERS, PEAK, TENTACLES, and the Storm Runners series. He is also the co-author of numerous picture books with his wife, Marie. Roland lives with Marie on a farm south of Portland, Oregon. You can find him online at www.rolandsmith.com.
Praise For…
---
Praise for TENTACLES:"A high-octane page-turner that will reel readers in and keep them riveted." --SCHOOL LIBRARY JOURNAL"Swashbuckling adventure, narrow escapes, sea monsters: The fascinating science of cryptids and Smith's fast-paced story will capture the imagination of any action-loving reader." --BOOKPAGEPraise for the STORM RUNNERS series:"A breakneck read, perfectly geared to the restless and reluctant." --BULLETIN OF THE CENTER FOR CHILDREN'S BOOKS"This slice of natural disaster . . . offers nary a dull moment. A high-velocity page-turner . . ." --KIRKUS REVIEWS

Praise for TENTACLES:"A high-octane page-turner that will reel readers in and keep them riveted." --SCHOOL LIBRARY JOURNAL"Swashbuckling adventure, narrow escapes, sea monsters: The fascinating science of cryptids and Smith's fast-paced story will capture the imagination of any action-loving reader." --BOOKPAGEPraise for the STORM RUNNERS series:"A breakneck read, perfectly geared to the restless and reluctant." --BULLETIN OF THE CENTER FOR CHILDREN'S BOOKS"This slice of natural disaster . . . offers nary a dull moment. A high-velocity page-turner . . ." --KIRKUS REVIEWS