Store Suspended
Hi! While BMLP is searching for a new home, we are suspending online shopping through this online storefront. However, you can still support BMLP with online shopping through our Bookshop.org page (click here to be redirected)! You can find the books you want and have them shipped directly to your home. A percentage of each purchase is donated to BMLP and will help us as we transition into our next phase.
We will continue to work to get books into the hands of under-resourced students despite the physical store closing so your contributions continue to make an impact in the lives of children.
Thank you for your continued support of BMLP and the mission to get books into the hands of all children.
With love,
The ManaTeam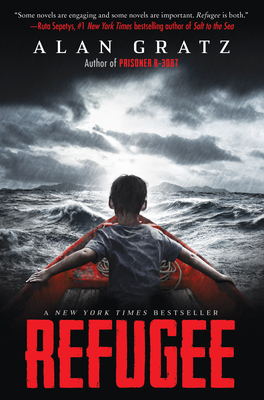 $17.99

In Stock at Our Warehouse. Ships in 2-5 days.
Description
---
A tour de force from acclaimed author Alan Gratz (Prisoner B-3087), this timely -- and timeless -- novel tells the powerful story of three different children seeking refuge.A New York Times bestseller!JOSEF is a Jewish boy living in 1930s Nazi Germany. With the threat of concentration camps looming, he and his family board a ship bound for the other side of the world . . .ISABEL is a Cuban girl in 1994. With riots and unrest plaguing her country, she and her family set out on a raft, hoping to find safety in America . . .MAHMOUD is a Syrian boy in 2015. With his homeland torn apart by violence and destruction, he and his family begin a long trek toward Europe . . .All three kids go on harrowing journeys in search of refuge. All will face unimaginable dangers -- from drownings to bombings to betrayals. But there is always the hope of tomorrow. And although Josef, Isabel, and Mahmoud are separated by continents and decades, shocking connections will tie their stories together in the end.This action-packed novel tackles topics both timely and timeless: courage, survival, and the quest for home.
About the Author
---
Alan Gratz is the #1 New York Times bestselling author of several highly acclaimed books for young readers, including Ground Zero, Allies, Grenade,Refugee, Projekt 1065, Prisoner B-3087, and Code of Honor. Alan lives in North Carolina with his wife and daughter. Look for him online at alangratz.com.
Praise For…
---
Praise for Refugee:* "Gratz accomplishes a feat that is nothing short of brilliant, offering a skillfully wrought narrative laced with global and intergenerational reverberations that signal hope for the future. . . . Poignant, respectful, and historically accurate while pulsating with emotional turmoil, adventure, and suspense." -- Kirkus Reviews, starred review* "[A] hard-hitting novel. . . . Filled with both tragic loss and ample evidence of resilience, these memorable and tightly plotted stories contextualize and give voice to current refugee crises, underscoring that these journeys are born out of a desperate need for security and safety." -- Publishers Weekly, starred review"Gratz, who is known for well-written and well-researched historical fiction, doesn't disappoint. His latest is timely and moving. . . . This compelling novel will help young people make sense of today's refugee crisis. Meant to be read, discussed, and shared widely." -- School Library Journal"Some novels are engaging and some novels are important. Refugee is both." -- #1 New York Times bestselling author Ruta Sepetys"This heart-stopping novel is not only compelling -- it is necessary." -- Judy Blundell, National Book Award winning author of What I Saw and How I Lied"An incredibly important, heartrending, edge-of-the-seat read, bringing light to the plight of immigrants who search for safety and freedom." -- Pam Muñoz Ryan, author of the New York Times bestseller and Newbery Honor Book Echo"With urgent, clear-eyed storytelling, Gratz's Refugee compellingly explores the desperation and strength that unites those struggling for a place to call home." -- Eliot Schrefer, New York Times bestselling author and two-time National Book Award finalist of Rescued and Endangered"Full of struggle, heroism, and non-stop adventure, Refugee is not only an important book, it's a terrific story." -- Kimberly Brubaker Bradley, author of the New York Times bestseller and Newbery Honor Book The War That Saved My Life"Powerful and compelling. Refugee is a story about what unites us all." -- Christina Diaz Gonzalez, award-winning author of Moving TargetPraise for Projekt 1065:* "While the book is replete with fascinating historical insight, Gratz has also crafted a suspenseful mystery that will keep readers on the edge of their seats. With short, action-packed chapters, it is a great choice for reluctant readers as well... A winning combination of action, suspense, and historical setting." -- School Library Journal, starred review* "A rare insider's glimpse into the Hitler Youth: animated, well-researched, and thought-provoking." -- Kirkus Reviews, starred review"[A] high-action spy thriller." -- BooklistPraise for Prisoner B-3087:A Junior Library Guild SelectionGolden Sower Award, 2014-2015 Winner NebraskaIsinglass Teen Read Award, 2014-2015 Winner New HampshirePennsylvania Young Readers' Choice Award, 2014-2015 Winner PennsylvaniaJunior Book Award, 2015-2016 Winner South CarolinaGrand Canyon Reader Award, 2015-2016 Winner ArizonaTruman Readers Award, 2015-2016 Winner MissouriReaders Choice Awards, Winner 2015-2016 Virginia Volunteer State Book Award Winner, 2015-2016 Tennessee"A powerful story, well told." -- School Library Journal"A bone-chilling tale not to be ignored." -- Kirkus Reviews"[A] remarkable survival story." -- Booklist"Gratz ably conveys . . . fatalism, yearning, and determination in the face of the unimaginable." -- Publishers Weekly"Heartbreaking, gripping, raw, and emotional . . . storytelling at its finest." -- VOYAPraise for Code of Honor:"Readers will be swept up by both the intrigue and the rapid pacing... Kamran is a smart and sympathetic narrator, and readers will be happy to spend time with him in this action-packed thriller." -- Kirkus Reviews"Exciting, at times ripped from the headlines, and scary, this cinematic work has layers of intrigue and danger in each scene... will appeal to a variety of readers and will raise questions about patriotism, loyalty, and trust... A winner." -- School Library Journal"Vivid characters and timely topics, such as posttraumatic stress disorder, contribute to making Code of Honor a first-rate novel." -- VOYA

Praise for Refugee:* "Gratz accomplishes a feat that is nothing short of brilliant, offering a skillfully wrought narrative laced with global and intergenerational reverberations that signal hope for the future. . . . Poignant, respectful, and historically accurate while pulsating with emotional turmoil, adventure, and suspense." -- Kirkus Reviews, starred review* "[A] hard-hitting novel. . . . Filled with both tragic loss and ample evidence of resilience, these memorable and tightly plotted stories contextualize and give voice to current refugee crises, underscoring that these journeys are born out of a desperate need for security and safety." -- Publishers Weekly, starred review"Gratz, who is known for well-written and well-researched historical fiction, doesn't disappoint. His latest is timely and moving. . . . This compelling novel will help young people make sense of today's refugee crisis. Meant to be read, discussed, and shared widely." -- School Library Journal"Some novels are engaging and some novels are important. Refugee is both." -- #1 New York Times bestselling author Ruta Sepetys"This heart-stopping novel is not only compelling -- it is necessary." -- Judy Blundell, National Book Award winning author of What I Saw and How I Lied"An incredibly important, heartrending, edge-of-the-seat read, bringing light to the plight of immigrants who search for safety and freedom." -- Pam Muñoz Ryan, author of the New York Times bestseller and Newbery Honor Book Echo"With urgent, clear-eyed storytelling, Gratz's Refugee compellingly explores the desperation and strength that unites those struggling for a place to call home." -- Eliot Schrefer, New York Times bestselling author and two-time National Book Award finalist of Rescued and Endangered"Full of struggle, heroism, and non-stop adventure, Refugee is not only an important book, it's a terrific story." -- Kimberly Brubaker Bradley, author of the New York Times bestseller and Newbery Honor Book The War That Saved My Life"Powerful and compelling. Refugee is a story about what unites us all." -- Christina Diaz Gonzalez, award-winning author of Moving TargetPraise for Projekt 1065:* "While the book is replete with fascinating historical insight, Gratz has also crafted a suspenseful mystery that will keep readers on the edge of their seats. With short, action-packed chapters, it is a great choice for reluctant readers as well... A winning combination of action, suspense, and historical setting." -- School Library Journal, starred review* "A rare insider's glimpse into the Hitler Youth: animated, well-researched, and thought-provoking." -- Kirkus Reviews, starred review"[A] high-action spy thriller." -- BooklistPraise for Prisoner B-3087:A Junior Library Guild SelectionGolden Sower Award, 2014-2015 Winner NebraskaIsinglass Teen Read Award, 2014-2015 Winner New HampshirePennsylvania Young Readers' Choice Award, 2014-2015 Winner PennsylvaniaJunior Book Award, 2015-2016 Winner South CarolinaGrand Canyon Reader Award, 2015-2016 Winner ArizonaTruman Readers Award, 2015-2016 Winner MissouriReaders Choice Awards, Winner 2015-2016 Virginia Volunteer State Book Award Winner, 2015-2016 Tennessee"A powerful story, well told." -- School Library Journal"A bone-chilling tale not to be ignored." -- Kirkus Reviews"[A] remarkable survival story." -- Booklist"Gratz ably conveys . . . fatalism, yearning, and determination in the face of the unimaginable." -- Publishers Weekly"Heartbreaking, gripping, raw, and emotional . . . storytelling at its finest." -- VOYAPraise for Code of Honor:"Readers will be swept up by both the intrigue and the rapid pacing... Kamran is a smart and sympathetic narrator, and readers will be happy to spend time with him in this action-packed thriller." -- Kirkus Reviews"Exciting, at times ripped from the headlines, and scary, this cinematic work has layers of intrigue and danger in each scene... will appeal to a variety of readers and will raise questions about patriotism, loyalty, and trust... A winner." -- School Library Journal"Vivid characters and timely topics, such as posttraumatic stress disorder, contribute to making Code of Honor a first-rate novel." -- VOYA