Promise That You Will Sing About Me: The Power and Poetry of Kendrick Lamar (Hardcover)
Store Suspended
Hi! While BMLP is searching for a new home, we are suspending online shopping through this online storefront. However, you can still support BMLP with online shopping through our Bookshop.org page (click here to be redirected)! You can find the books you want and have them shipped directly to your home. A percentage of each purchase is donated to BMLP and will help us as we transition into our next phase.
We will continue to work to get books into the hands of under-resourced students despite the physical store closing so your contributions continue to make an impact in the lives of children.
Thank you for your continued support of BMLP and the mission to get books into the hands of all children.
With love,
The ManaTeam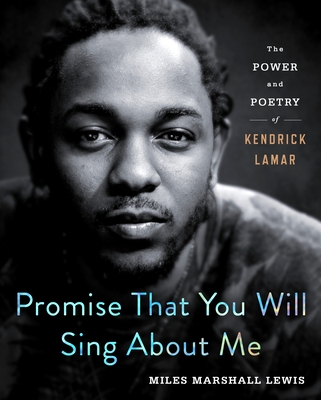 $29.99

In Stock at Our Warehouse. Ships in 2-5 days.
Description
---
A stunning, in-depth look at the power and poetry of one of the most consequential rappers of our time.

Kendrick Lamar is one of the most influential rappers, songwriters and record producers of his generation. Widely known for his incredible lyrics and powerful music, he is regarded as one of the greatest rappers of all time. In Promise That You Will Sing About Me, pop culture critic and music journalist Miles Marshall Lewis explores Kendrick Lamar's life, his roots, his music, his lyrics, and how he has shaped the musical landscape.

With incredible graphic design, quotes, lyrics and commentary from Ta-Nehisi Coates, Alicia Garza and more, this book provides an in-depth look at how Kendrick came to be the powerhouse he is today and how he has revolutionized the industry from the inside.
About the Author
---
Miles Marshall Lewis is a pop culture critic, essayist and fiction writer from the Bronx, New York. He is author of the memoir Scars of the Soul Are Why Kids Wear Bandages When They Don't Have Bruises, as well as There's a Riot Goin' On, a book about the music of Sly & the Family Stone. A former editor at Vibe, XXL, Ebony.com and BET.com, his essays and arts journalism have been published by The New York Times, GQ, Essence, The Believer, Teen Vogue, Rolling Stone, Salon and elsewhere. He also founded and edited the defunct literary journal, Bronx Biannual. Lewis currently lives in Manhattan.
Praise For…
---
"With art and commentary from voices like Ta-Nehisi Coates, this book contextualizes Kendrick Lamar's impact and digs into the significance of his lyrics." - The New York Times

"An in-depth biographical and historical contextualization of one of the decade's most heralded rappers."--Kirkus

"An insightful deep dive into the mind of Pulitzer-winning hip-hop artist and producer Kendrick Lamar … Lewis paints a captivating portrait of a luminary whose lyrics capture the struggles, triumphs, anger, and hope of an entire generation of Black Americans. … Fans and hip-hop enthusiasts will relish this thought-provoking work." - Publishers Weekly

"Miles Marshall Lewis is one of the most gifted and eloquent cultural critics of his generation. His astute observations about Kendrick Lamar's formidable body of work offer ample evidence of the magisterial literacy that courses through Lamar's densely allusive and complicated lyrics. Promise That You Will Sing About Me is a timely and poignant meditation on the remarkable artistry of our pioneering Pulitzer Prize-winning urban wunderkind." —Michael Eric Dyson, author of the New York Times Bestselling Tears We Cannot Stop and Jay-Z

"Miles uses his words the way I use my voice: honestly. He's peculiarly intelligent, the best kind of journalist, fair to the artist without failing to entertain the reader." —Erykah Badu

"Miles Marshall Lewis is one of the cornerstone writers of his generation, a pioneering voice whose insights into American culture – particularly that outsize portion of it pertaining to black music – have been critical not only to his readers but also the writers who have emerged in his two decades of public engagement. There's a vast category of writers whose work has been influenced by hiphop; Miles is one of the few who has returned the favor." —Jelani Cobb, The New Yorker

"MML has been at the cutting edge of black magic in music. He's listened, contemplated and debated the roots and origins of sound while staying abreast of what's next, what's funky and what's trash. His ear, like his heart, is right behind the beat." —Saul Williams, author of ,said the shotgun to the head

"Promise That You Will Sing About Me demands you, as the lyric it borrows its name from does, to reckon with a force that interrogates and strips and cleanses and incites and excites and encapsulates and loves us the way Kendrick and Kendrick's music does. Only Miles Marshall Lewis is capable of capturing that lightning and articulating how and why and when it strikes us." —Damon Young, author of What Doesn't Kill You Makes You Blacker