Fly Girls: How Five Daring Women Defied All Odds and Made Aviation History (Paperback)
Store Suspended
Hi! While BMLP is searching for a new home, we are suspending online shopping through this online storefront. However, you can still support BMLP with online shopping through our Bookshop.org page (click here to be redirected)! You can find the books you want and have them shipped directly to your home. A percentage of each purchase is donated to BMLP and will help us as we transition into our next phase.
We will continue to work to get books into the hands of under-resourced students despite the physical store closing so your contributions continue to make an impact in the lives of children.
Thank you for your continued support of BMLP and the mission to get books into the hands of all children.
With love,
The ManaTeam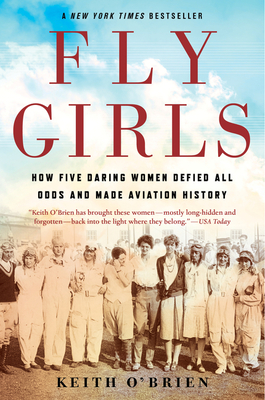 $15.99

In Stock at Our Warehouse. Ships in 2-5 days.
Description
---
A New York Times Bestseller * An Amazon Best Book of the Year * A New York Times Book Review Editors' Choice * A Time Best Book for Summer
 
Between the world wars, no sport was more popular, or more dangerous, than airplane racing. While male pilots were lauded as heroes, the few women who dared to fly were more often ridiculed—until a cadre of women pilots banded together to break through the entrenched prejudice.

Fly Girls weaves together the stories of five remarkable women: Florence Klingensmith, a high school dropout from Fargo, North Dakota; Ruth Elder, an Alabama divorcée; Amelia Earhart, the most famous, but not necessarily the most skilled; Ruth Nichols, who chafed at her blue blood family's expectations; and Louise Thaden, the young mother of two who got her start selling coal in Wichita. Together, they fought for the chance to fly and race airplanes—and in 1936, one of them would triumph, beating the men in the toughest air race of them all.
About the Author
---
Keith O'Brien is journalist who has written for the New York Times and Politico and he's a longtime contributor to National Public Radio. His work has appeared on shows such as All Things Considered, Morning Edition, and This American Life. He is a former staff writer for the Boston Globe and the author of Outside Shot: Big Dreams, Hard Times, and One County's Quest for Basketball Greatness. He lives in New Hampshire.
 
Praise For…
---
A NEW YORK TIMES BEST SELLER A Time Magazine Best Book for Summer A Costco "Pennie's Pick" Named a "Must Read" by Bustle, BookPage, Garden & Gun, Parade One of iBooks' "Summer's Most Anticipated Books" An Amazon "Best Book of the Month" "Exhilarating...vibrant...O'Brien's prose reverberates with fiery crashes, then stings with the tragedy of lives lost in the cockpit and sometimes, equally heartbreaking, on the ground."—New York Times Book Review "Keith O'Brien has brought these women—mostly long-hidden and forgotten—back into the light where they belong. And he's done it with grace, sensitivity and a cinematic eye for detail that makes "Fly Girls" both exhilarating and heartbreaking." —USA Today "Mr. O'Brien, a former reporter for the Boston Globe working in the tradition of 'Hidden Figures' and 'The Girls of Atomic City,' has recovered a fascinating chapter not just in feminism and aviation but in 20th-century American history." —Wall Street Journal "A riveting account that puts us in the cockpit with Amelia Earhart and other brave women who took to the skies in the unreliable flying machines of the '20s and '30s." —People Magazine "Let's call it the Hidden Figures rule: If there's a part of the past you thought was exclusively male, you're probably wrong. Case in point are these stories of Amelia Earhart and other female pilots who fought to fly."—Time "This book ends like a perfect landing, taking its place in readers' hearts just like the women at its core took their place in history."—The Coil   "Keith O'Brien's spectacularly detailed Fly Girls [recreates] a world that can still inspire us today."—BookPage   "[An] engrossing mix of group biography and technology history."—Nature    "[A] page-turner that will make you appreciate just how soaring the spirit of women has always been."—MindBodyGreen "Fly Girls is an inspiring and insightful story of five courageous women who risked their lives and made a place for women in the male-dominated field of aviation. Keith O'Brien has shone a light on the forgotten struggle of women for equality as well as the little-known aspect of aviation history. Fly Girls is as much about the courageous female pilots as it is about the history of aviation. This meticulously researched and brilliantly written book brings those brave aviators to life. Keith O'Brien has filled the holes in scholarship about women's struggle and aviation." —Washington Book Review "O'Brien details in crisp and engaging writing how his subjects came to love aviation, along with their struggles and victories with flying, the rampant sexism they experienced, and the hard choices they faced regarding work and family. Highly recommended for readers with an interest in aviation history, women's history, cultural history, and 20th-century history." — Library Journal, STARRED review "Journalist O'Brien tells the exciting story of aviators who, though they did not break the aviation industry's glass ceiling, put a large c —