How Do Dinosaurs Learn to Read? (Hardcover)
Store Suspended
Hi! While BMLP is searching for a new home, we are suspending online shopping through this online storefront. However, you can still support BMLP with online shopping through our Bookshop.org page (click here to be redirected)! You can find the books you want and have them shipped directly to your home. A percentage of each purchase is donated to BMLP and will help us as we transition into our next phase.
We will continue to work to get books into the hands of under-resourced students despite the physical store closing so your contributions continue to make an impact in the lives of children.
Thank you for your continued support of BMLP and the mission to get books into the hands of all children.
With love,
The ManaTeam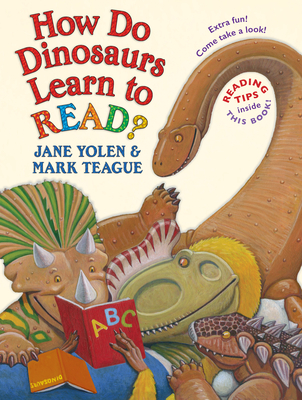 $17.99

In Stock at Our Warehouse. Ships in 2-5 days.
Description
---
America's favorite dinosaurs romp and roar as they soak books in the bathtub, throw them, and finally learn how to enthusiastically -- and carefully -- read them...with Mama and Papa at bedtime.Get ready to laugh at this lighthearted, heartwarming, and funny approach to books! Children sometimes feel the task of learning to read is overwhelming, but the winning combination of rhyme and illustrations here provide a perfect way to present the subject in a comical, engaging, and nonjudgmental way. The contrast of enormous dinosaurs in kid-sized bedrooms (with human parents) adds irresistible humor as families explore the do's and don'ts of reading. Both practical and engaging, this book shows dinosaurs getting into all sorts of reading-related trouble! But of course, in the end, the dinosaurs learn how to carefully handle their books, read out loud, and read a lot!Each book in the endlessly popular How Do Dinosaurs series is a combination of childish antics followed by a gentle lesson -- with over 14.5 million books in print. This book, the twelfth, ends with pages designed to get your own little dinosaur excited about learning to read -- especially this word: Dinosaur!
About the Author
---
Jane Yolen is the beloved author of more than 365 books for children and adults, including award-winning picture books, fiction, nonfiction, and poetry. In addition to two Nebula Awards and a National Book Award nomination, she has received a Golden Kite from SCBWI, three Mythopoeic Fantasy Awards, and the California Young Reader Medal. Yolen's How Do Dinosaurs Say Good Night? was an ALA Notable Book and a Christopher Medal winner. The book has gone on to become a widely popular bestselling series with over 15 million copies in print. She lives in Western Massachusetts.
Mark Teague is the internationally bestselling illustrator (and author) of more than 50 books for children. His numerous awards and honors include the Book Sense Book of the Year Award and the Christopher Medal. He has illustrated 12 full-size books and 11 board books in the widely successful How Do Dinosaurs...? series. He is the author of the popular Dear Mrs. LaRue, Firehouse!, and Jack and the Beanstalk and the French Fries. He lives in New York State.
Praise For…
---
Praise for How Do Dinosaurs Choose Their Pets?"Yolen's rhymes are jaunty, and, as always, Teague has a field day. His illustrations highlight the unbridled joy these vibrantly colored, lesser-known species of dinos... have playing with a variety of creatures." -- Kirkus ReviewsPraise for How Do Dinosaurs Stay Friends?"The 10th dinosaur outing for Yolen and Teague playfully addresses the minefield of school friendships, as always cleverly subbing in outsized dinosaur antics for the gigantic feelings in every little kid's body... who can resist when dinosaur buddies share a sincere, well-earned hug?" -- Kirkus ReviewsPraise for How Do Dinosaurs Stay Safe?"This beloved series hit the ground running, and it's still going strong." -- Booklist"As in previous outings, Teague's artwork steals the show, the realism of the scenes and human figures juxtaposed with the giant, though childish, dinos. Labels in the illustrations and endpapers will help dino mavens identify their favorites. Don'ts and Do's in a familiar formula go down easily for fans and will provide a good conversation starter for parents." -- Kirkus Reviews

Praise for How Do Dinosaurs Choose Their Pets?"Yolen's rhymes are jaunty, and, as always, Teague has a field day. His illustrations highlight the unbridled joy these vibrantly colored, lesser-known species of dinos... have playing with a variety of creatures." -- Kirkus ReviewsPraise for How Do Dinosaurs Stay Friends?"The 10th dinosaur outing for Yolen and Teague playfully addresses the minefield of school friendships, as always cleverly subbing in outsized dinosaur antics for the gigantic feelings in every little kid's body... who can resist when dinosaur buddies share a sincere, well-earned hug?" -- Kirkus ReviewsPraise for How Do Dinosaurs Stay Safe?"This beloved series hit the ground running, and it's still going strong." -- Booklist"As in previous outings, Teague's artwork steals the show, the realism of the scenes and human figures juxtaposed with the giant, though childish, dinos. Labels in the illustrations and endpapers will help dino mavens identify their favorites. Don'ts and Do's in a familiar formula go down easily for fans and will provide a good conversation starter for parents." -- Kirkus Reviews