How to Be an Inclusive Leader: Your Role in Creating Cultures of Belonging Where Everyone Can Thrive (Hardcover)
Store Suspended
Hi! While BMLP is searching for a new home, we are suspending online shopping through this online storefront. However, you can still support BMLP with online shopping through our Bookshop.org page (click here to be redirected)! You can find the books you want and have them shipped directly to your home. A percentage of each purchase is donated to BMLP and will help us as we transition into our next phase.
We will continue to work to get books into the hands of under-resourced students despite the physical store closing so your contributions continue to make an impact in the lives of children.
Thank you for your continued support of BMLP and the mission to get books into the hands of all children.
With love,
The ManaTeam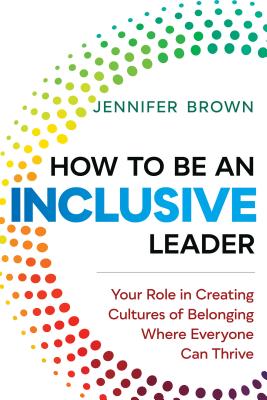 $26.95
Email or call for price
Description
---
We know why diversity is important, but how do we drive real change at work? Diversity and inclusion expert Jennifer Brown provides a step-by-step guide for the personal and emotional journey we must undertake to create an inclusive workplace where everyone can thrive.

Human potential is unleashed when we feel like we belong. That's why inclusive workplaces experience higher engagement, performance, and profits. But the reality is that many people still feel unable to bring their true selves to work. In a world where the talent pool is becoming increasingly diverse, it's more important than ever for leaders to truly understand how to support inclusion.

Drawing on years of work with many leading organizations, Jennifer Brown shows what leaders at any level can do to spark real change. She guides readers through the Inclusive Leader Continuum, a set of four developmental stages: unaware, aware, active, and advocate. Brown describes the hallmarks of each stage, the behaviors and mind-sets that inform it, and what readers can do to keep progressing. Whether you're a powerful CEO or a new employee without direct reports, there are actions you can take that can drastically change the day-to-day reality for your colleagues and the trajectory of your organization.

Anyone can--and should--be an inclusive leader. Brown lays out simple steps to help you understand your role, boost your self-awareness, take action, and become a better version of yourself in the process. This book will meet you where you are and provide a road map to create a workplace of greater mutual understanding where everyone's talents can shine.
About the Author
---
Jennifer Brown is the founder, president, and CEO of Jennifer Brown Consulting and the host of The Will to Change podcast, which uncovers true stories of diversity and inclusion. Brown's workplace strategies have been employed by top Fortune 500 companies and nonprofits. As a successful LGBT entrepreneur, Brown has been featured by media such as the New York Times, Bloomberg Businessweek, Forbes, Fortune, Inc., the Wall Street Journal, HuffPost Live, CBS, Fox News, and many more.
Praise For…
---
"Despite good intentions and an understanding that employee diversity strengthens teams and contributes to the bottom line, many leaders struggle with how to actualize an inclusive workforce. In How to Be an Inclusive Leader, expert Jennifer Brown guides leaders from being unaware to being an advocate for all employees. Her advice is invaluable for the leaders of today and tomorrow."
—Jan Jones Blackhurst, Executive Vice President, Public Policy and Corporate Responsibility, Caesars Entertainment
 
"So many of us want to be even more inclusive as leaders, but for a number of reasons we aren't always sure how. It is truly a journey, and we're all at different places. Jennifer Brown writes with compassion and empathy while giving us a little kick in the pants. The reality is that we can all do more to make our teams and workplaces more inclusive, and this important book shows actual steps for making this happen."
—Mike Robbins, author of Bring Your Whole Self to Work
 
"Finally, a book that acknowledges that allyship is a continuum and that all of us should up our advocacy constantly, like working a muscle. The situational examples allow us all to dress rehearse how we'll meet these moments when they come up in real life. A must-read for anyone committed to a world where we all belong and contribute fully."
—Kat Gordon, founder and CEO, The 3% Movement
 
"How to Be an Inclusive Leader is a fantastic read! Jennifer Brown is incredibly thought-provoking, especially around the concepts of fairness, equity, privilege, and what it means to be on the right side of social change. How to Be an Inclusive Leader digs deep on the root causes of inequality in the workplace, showing how we must be intentional about disrupting the status quo. We are living in challenging times, where we must innovate and explore and pull every possible lever of change. If you've been looking for a book that will help you drive real change at your organization, this is it!"
—Erin Uritus, CEO, Out & Equal Workplace Advocates
 
"In How to Be an Inclusive Leader, Jennifer Brown adds crucial action-oriented perspectives on how to build the most effective, innovative cultures: by helping leaders ensure that all team members feel that they belong. At a time when most discussion is focused on platitudes or justifying the benefits of diversity, Jennifer provides strategies to drive impact across organizations. As major demographic shifts change the global workforce, this book is essential reading for any leader wanting to build a resilient, future-proof organization."
—Aubrey Blanche, Global Head of Diversity and Belonging, Atlassian
 
"I've long valued the modern lens through which Jennifer approaches diversity and inclusion, and How to Be an Inclusive Leader lends a long-overdue voice to inclusive leadership in the new workplace. As the increasingly diverse workforce looks for accountability from their employers, it's more important than ever for leaders to ensure that they're not just talking about inclusion but creating a culture in which employees feel comfortable bringing every part of themselves to work. This book is the leader's guide to doing just that."
—Tia Silas, Vice President, Global Chief Diversity and Inclusion Officer, IBM
 
"Jennifer effortlessly tackles the power and significance of strategically practicing inclusion for the benefit of everyone without the standard complex and empirical processes that may work for great business plans, however, not for the vastly diverse people who drive and execute them. Jennifer skillfully, with a visceral and purposeful approach, exhibits her master-class global expertise as the leading authority on developing a culture of belonging by offering us the very pragmatic Stages of the Inclusive Leader Continuum and reminding us that our journey begins with a series of important steps. My first step was reading this book."
—H, Walker, Director, Global Diversity, Inclusion and Community Engagement, McDonald's Corporation