Marjolein Bastin Nature's Inspiration 2021 Large Monthly Planner Calendar (Calendar)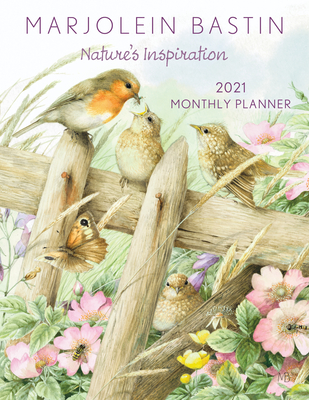 Description
---
This straightforward 12-month planner, with its generously sized planning grids on each monthly spread, is sure to become an indispensable time management tool for busy people.
Each month features a full-color detail from one of Marjolein Bastin's delightful paintings. It includes planning pages, plenty of room for notes, and space for recording names and numbers.
Other features include:
12-month planner: January through December 2021
Each monthly spread features large grids for jotting down meetings, appointments, vacations, and more  
Includes widely celebrated and nationally recognized holidays and observances
8 ½" x 11" monthly planner (17" x 11" open)
At the back there is space for 2022 planning, names and numbers, and notes
About the Author
---
Marjolein Bastin's passion for the natural world is of a universal quality that appeals to people the world over. You can find Marjolein's artwork on greeting cards, calendars, dinnerware, bedding, gifts, and many other products. But for Marjolein, only one thing remains important: spend every day behind her desk painting the natural world around her.

She also writes and illustrates children's books featuring the endearing Vera the Mouse character, which she created. Through her art and words, Marjolein offers people a simple reminder to pause and enjoy nature and allow it to be a source of serenity, energy, and healing. Finding inspiration in a bird lighting on a branch or a leaf drying in the autumn sun, Marjolein takes long walks each afternoon to seek new ideas for her artwork and her writings. Marjolein and her husband, Gaston, divide their time between country homes in Holland, Switzerland, and in Missouri,  as well a tropical retreat in the Cayman Islands. Each setting provides a unique glimpse of what nature has to offer throughout the world. The couple has a son, Mischa, a daughter, Sanna, and two grandchildren.