Where We Used to Roam (Hardcover)
Store Suspended
Hi! While BMLP is searching for a new home, we are suspending online shopping through this online storefront. However, you can still support BMLP with online shopping through our Bookshop.org page (click here to be redirected)! You can find the books you want and have them shipped directly to your home. A percentage of each purchase is donated to BMLP and will help us as we transition into our next phase.
We will continue to work to get books into the hands of under-resourced students despite the physical store closing so your contributions continue to make an impact in the lives of children.
Thank you for your continued support of BMLP and the mission to get books into the hands of all children.
With love,
The ManaTeam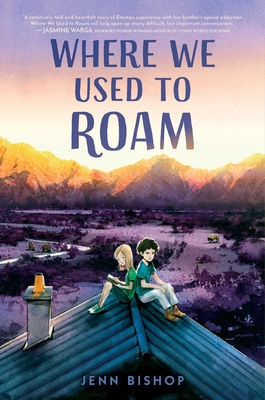 $17.99

In Stock at Our Warehouse. Ships in 2-5 days.
Description
---
"Sensitively told and heartfelt…will open up many difficult, but important conversations." —Jasmine Warga, Newbery Honor–winning author of Other Words for Home

In this powerful middle grade novel from the acclaimed author of Things You Can't Say, a young girl struggles to find her place while her older brother fights to overcome opioid addiction—perfect for fans of The Seventh Wish and Violets Are Blue.

When Emma starts sixth grade, things finally begin to change. She may still be in the shadow of her older brother, Austin, the popular high school quarterback, but she's made artsy new friends who get her way more than her bookish best friend, Becca.

But things are changing for Austin, too. After undergoing surgery for a football injury, Austin has become addicted to opioid painkillers. By the end of the school year, everything blows up with Austin—and Becca. When their parents decide to send Austin to rehab and Emma to stay with family friends in Wyoming for the summer, Emma seizes the chance to get away.

Wyoming turns out to be a perfect fresh start, especially after Emma makes friends with Tyler, a kindred spirit who doesn't judge her—then again, he doesn't know what she did to Becca. Still, Emma can't hide forever…or go back to the way things were with Austin or with Becca. But can she find a way to confront the truth and move forward?
About the Author
---
Jenn Bishop is the author of the middle grade novels Things You Can't Say, 14 Hollow Road, The Distance to Home, and Where We Used to Roam. She grew up in Massachusetts and as a college student spent one incredible summer in Wyoming. She has been obsessed with bison ever since. After working as a children's librarian, she received her MFA in writing for children and young adults from the Vermont College of Fine Arts. Jenn currently calls Cincinnati, Ohio, home. Visit her online at JennBishop.com.
Praise For…
---
"In this transparent examination of how addiction can affect families, Bishop (Things You Can't Say) effectively showcases Emma's realistic struggle to forgive her friends, her family, and herself; her turbulent emotions make her a relatable, authentic character."
— Publishers Weekly

"The two distinct halves of Bishop's novel are securely harnessed, and the abrupt segue underscores the tailspin into which Em's life has been thrown. The O'Malleys stay strong, though, and even though the book wisely eschews an unequivocal happy ending, there's definitely light on their horizon."
— The Bulletin

"Bishop combines a coming-of-age story with an issue story, creating a novel that teaches lessons without being preachy and honestly depicts the confusion, fear, and anger that arise when a sibling struggles with substance abuse . . . Though the story ends on a positive note, there is no unrealistically neat happy ending . . . An enjoyable book that is a starting point for young readers to understand the opioid crisis."
— Kirkus Reviews

"A sensitively told and heartfelt story of Emma's experience with her brother's opioid addiction. Where We Used to Roam will help open up many difficult, but important conversations."
— Jasmine Warga, Newbery Honor-winning author of Other Words for Home

"A searingly poignant story of adaptation, resilience, and the kind of love that can guide us through our most difficult paths. Jenn Bishop beautifully balances heavy topics, like addiction, with more ordinary trials, like friends growing apart, weaving in threads of artistry and hope that carry the reader through the hardships Emma faces."
— Cindy Baldwin, author of Beginners Welcome

"Where We Used to Roam is a sensitive and thought-provoking story about one girl's efforts to navigate changing friendships, a brother's addiction, and the ripple effect it has on the whole family. An important platform for difficult discussions that will leave a lasting imprint on your heart."
— Elly Swartz, author of Give and Take

PRAISE FOR THINGS YOU CAN'T SAY

"A touching and believable story about the ways worries feed on each other, the difference that honesty makes to kids, and how much emotional growth a child...can experience in just a few weeks." —Publishers Weekly

"A sensitive exploration of suicide, forgiveness, and the difficulty of navigating friendships." —Booklist

"As Things You Can't Say shows the gaping fissures that loss and grief can cause in a kiddo's life, so too does it show how those same fissures may begin to heal and close. That we are rooting so hard for their closing in Andrew's life is a measure of how wonderfully real and honest this story is, and of how deep our need is for just the right words." --Gary D. Schmidt, Newbery Honor Winner and National Book Award Finalist

"With grit and authenticity, Bishop takes us inside the head and heart of a young boy. Be prepared to laugh, cry, cheer, and turn the last page with a satisfying sigh." --Barbara O'Connor, author of Wonderland

"This touching, authentic novel will open readers' eyes and hearts about mental health issues in loving, 'normal' families. Jenn Bishop explores a challenging subject with sensitivity and grace." --Barbara Dee, author of Maybe He Just Likes You

"People who go away forever. People who come out of nowhere. People who drift away and then drift back. Three years after the death of his father, young Drew finds a way to make peace with all these sorts of people. An emotional tale of a boy who finds it takes equal measures of courage to move forward and to look back." --Paul Mosier, author of Echo's Sister