Francine Francine the Beach Party Queen! (Hardcover)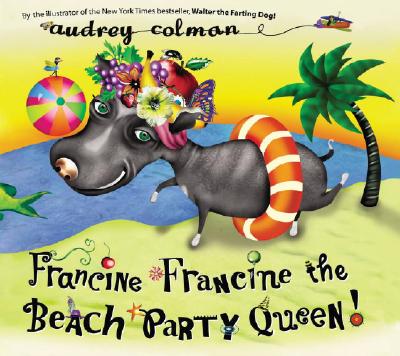 Email or call for price.
Special Order - Subject to Availability
Description
---
Francine is a sweet and goofy dog whose rather boring and insensitive family doesn't appreciate her. High-spirited and curious, she gets into all sorts of trouble. Does Francine have a nose for mischief, or is she just looking for love and acceptance? Eventually she decides she's had enough and leaves. "I want to be able to act like a dog," she says. "If I have to I'll travel to France or to Prague!" This upbeat, compassionate story in rhymed verse teaches kindness toward animals, and the trademark computerized collages by Audrey Colman -- illustrator of Walter the Farting Dog, a New York Times bestseller and Children's Book Sense 76 selection -- enhance the lesson.
Praise For…
---
"Purposely telling her tale from the animal's perspective, Colman avoids the clich of sending her message by way of cute animals dressed in the guise of humans; instead, her animals get to be, well, animals, with feelings and needs all their own. With humor and empathy, Colman shows that the loneliness, boredom and frustration brought about by the lack of control over one's own destiny exists for animals as well as humans and, with a bit of consideration, we can all do our part to help alleviate this suffering and create more meaningful lives for our animal companions."
-Bark Magazine, 2003