Tongass Odyssey: Seeing the Forest Ecosystem through the Politics of Trees (Alaska) (Paperback)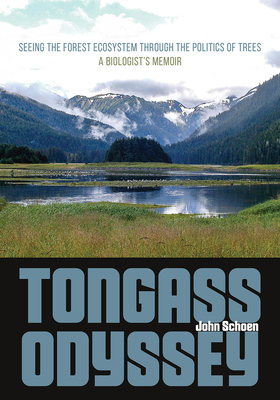 $28.95
In Stock at Our Warehouse. Ships in 2-5 days.
Description
---
Tongass Odyssey is a biologist's memoir of personal experiences over the past four decades studying brown bears, deer, and mountain goats and advocating for conservation of Alaska's Tongass National Forest. The largest national forest in the nation, the Tongass encompasses the most significant expanse of intact old-growth temperate rainforest remaining on Earth. Tongass Odyssey is a cautionary tale of the harm that can result when science is eclipsed by politics that are focused on short-term economic gain. Yet even as those problems put the Tongass at risk, the forest also represents a unique opportunity for conserving large, intact landscapes with all their ecological parts, including wild salmon, bears, wolves, eagles, and other wildlife. Combining elements of personal memoir, field journal, natural history, conservation essay, and philosophical reflection, Tongass Odyssey tells an engaging story about an enchanting place.
 
About the Author
---
John Schoen is a retired affiliate professor of wildlife biology at the University of Alaska Fairbanks and is coauthor and coeditor of the book North Pacific Temperate Rainforests: Ecology and Conservation.
 
Praise For…
---
"Books can inform and inspire. Both outcomes were skillfully achieved by John Schoen, long-time member of the Alaska Chapter of The Wildlife Society, in his recently released Tongass Odyssey [...] Tongass Odyssey can serve as a historic context for ecologists and wildlife biologists working in contemporary Southeast Alaska, where vigorous societal debate continues over concerns that logging, mining, and associated road building can impact future potential of nature tourism, fishing, and hunting, all reliant on productive habitats. Its 338 pages include appendices on geographic facts, historic benchmarks, technical terms, and end notes. It is also an instructive example to scientists on how to walk the fine line between professional and personal advocacy in the policy arena, where trial and error without a mentor can be detrimental to scientific reputations and agency careers."
— The Alaskan Wildlifer