Bookkeeping and QuickBooks: A Beginner's Guide to Accounting and Bookkeeping for Small Business (Paperback)
Store Suspended
Hi! While BMLP is searching for a new home, we are suspending online shopping through this online storefront. However, you can still support BMLP with online shopping through our Bookshop.org page (click here to be redirected)! You can find the books you want and have them shipped directly to your home. A percentage of each purchase is donated to BMLP and will help us as we transition into our next phase.
We will continue to work to get books into the hands of under-resourced students despite the physical store closing so your contributions continue to make an impact in the lives of children.
Thank you for your continued support of BMLP and the mission to get books into the hands of all children.
With love,
The ManaTeam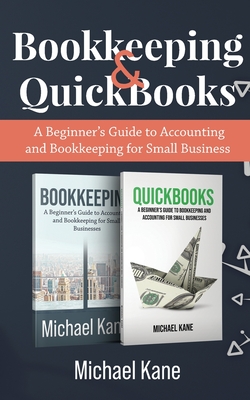 $26.99

In Stock at Our Warehouse. Ships in 2-5 days.
Description
---
Demystify the science and practice of accounting and take the headache out of bookkeeping with this 2-in-1 resource guide to Accounting and QuickBooks for small businesses
Do you run a small business and want to understand how cash flows in your business works, but don't have the stomach for painstakingly crunching numbers or accounting jargon? Do finances put you in a state of torpor and are completely clueless about balance sheets, income statement and the likes?
If your answer is yes, then you're not alone, and this all-in-one resource guide is here to help.
This bundle has everything you need to get you up to speed with modern accounting and bookkeeping practices designed specifically for small businesses. You'll learn the basics and core principles of accounting and how it applies to your business, as well as equip you with the software skills you need to master QuickBooks in as little time as possible.
Among the practical tips contained in Bookkeeping, you're going to learn:
The subtle, but important differences between accounting and bookkeeping
The 10 major tasks that comprise what being a bookkeeper really entails in the 21st century
3 little-known secrets to help you run a successful small bookkeeping business
A concise introduction to the two major types of bookkeeping practiced in the modern business world
Surefire tips and proven steps to follow when handling accounting for small businesses
The 5 core fundamentals of small business accounting you absolutely need to be aware of
A glossary of basic accounting terminology you need to know about
An in-depth guide to the all-important accounting equation
...and much, much more
Finally, here's what you're going to learn in Quickbooks
All you need to know to get started on the right foot with the QuickBooks
Everything you need to consider before picking the perfect QuickBooks plan for your small business
Step-by-step instructions to set up QuickBooks for your new and existing businesses as quickly and painlessly as possible
How to set up vendors, employees, payroll taxes and more in QuickBooks
Steps to set up invoices, credit memos and efficiently record revenues for your small business using QuickBooks
...and tons more
Whether you're a small or medium business owner, partner, manager, employee or freelancer, this bundle has everything you need to improve your bookkeeping chops and take your accounting skills to the next level.
Scroll to the top of the page and click the "Buy Now" button to get started today