Walt Disney's Mickey Mouse. Toute l'Histoire. 40th Ed. (Hardcover)
Store Suspended
Hi! While BMLP is searching for a new home, we are suspending online shopping through this online storefront. However, you can still support BMLP with online shopping through our Bookshop.org page (click here to be redirected)! You can find the books you want and have them shipped directly to your home. A percentage of each purchase is donated to BMLP and will help us as we transition into our next phase.
We will continue to work to get books into the hands of under-resourced students despite the physical store closing so your contributions continue to make an impact in the lives of children.
Thank you for your continued support of BMLP and the mission to get books into the hands of all children.
With love,
The ManaTeam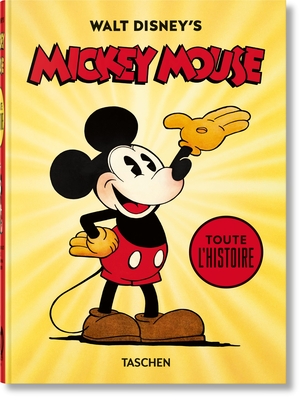 $30.00
Email or call for price
Description
---
Le 18 novembre 1928, le monsieur Souris le plus c l bre au monde faisait sa premi re apparition publique. Aujourd'hui, nous c l brons les 90 ans de Mickey avec l'une des publications illustr es les plus exhaustives consacr es l'univers Disney. En commen ant par les premiers croquis d'un personnage qui s'appelait alors Mortimer, nous retra ons la carri re de la cr ature la plus fameuse cr e par Walt et Ub, salu e par une popularit mondiale fulgurante et durable que Charlie Chaplin tait le seul avoir connue jusqu'alors.
Gr ce un acc's illimit aux archives Disney et plusieurs collections publiques et priv es, les auteurs redonnent vie la l gende: esquisses, story-boards, arri re-plans, dessins d'animation et photos d' poque retracent les origines et l' volution de grands classiques comme Steamboat Willie, La Fanfare et Le Brave Petit Tailleur. Ils suivent aussi Mickey dans la construction de son l gendaire catalogue de courts-m trages d'animation, qui d bute par deux longs-m trages historiques, Fantasia et Coquin de printemps.
Les recherches approfondies men es pour cet ouvrage mettent un coup de projecteur in dit sur des chapitres peu connus de la carri re de Mickey, comme les origines du Mickey Mouse Club, ou le r le d'ic ne patriotique qu'on lui fit endosser pendant la Seconde Guerre mondiale. Au fil de l'histoire, on admire le travail de tous les grands artistes qui ont fa onn le personnage de Mickey, l' cran et en bande dessin e, parmi lesquels Ub Iwerks, Win Smith, Ferdinand Horvath, Freddie Moore, Floyd Gottfredson, Carl Barks, Manuel Gonzales, Paul Murry, Romano Scarpa, Giorgo Cavazzano, Byron Erickson et C sar Ferioli.
Mickey a laiss une marque ind l bile sur la culture populaire et quotidienne mais aussi dans les beaux-arts, pour tre devenu un sujet embl matique entre les mains d'artistes pop comme Andy Warhol, Keith Haring et Roy Lichtenstein. Comme aimait le dire Walt Disney: J'esp re juste que nous ne perdrons jamais de vue que tout a commenc par une souris. Et la success-story ne semble pas pr's de s'arr ter. Aujourd'hui, 90 ans, Mickey est aussi aim et populaire que jamais. Rendons hommage cette petite cr ature, sa l gende et son h ritage en rigeant un monument la souris
Copyright (c) 2020 Disney Enterprises, Inc.
propos de la collection
TASCHEN f te ses 40 ans Depuis ses d buts en 1980 comme d nicheur de tr sors culturels, TASCHEN a toujours t synonyme d' diteur accessible permettant aux d voreurs de livres du monde entier d'imaginer leur propre biblioth que d di e l'art, l'anthropologie et l' rotisme pour un prix imbattable. Nous f tons aujourd'hui 40 ans de livres incroyables en restant fid les au credo de la maison. La collection 40th Anniversary Edition pr sente de nouvelles ditions de quelques-unes des stars de notre catalogue: plus compacte, petit prix, mais toujours r alis e avec la m me garantie d'une qualit irr prochable.