Fahrenheit 451 (Novela gráfica) / Ray Bradbury's Fahrenheit 451 (Hardcover)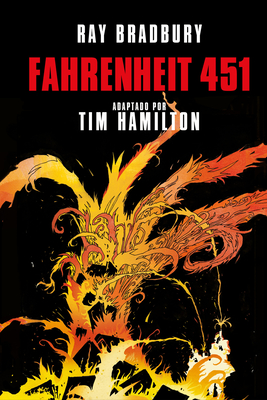 $16.95
Email or call for price.
Description
---
La adaptación gráfica oficial de la novela clásica de Ray Bradbury.

Fahrenheit 451
c
uenta la historia de un sombrío y horroroso  futuro. Montag, el protagonista, pertenece a una extraña brigada de bomberos cuya misión, paradójicamente, no es la de sofocar incendios, sino la de provocarlos para quemar libros. Porque en el país de Montag está terminantemente prohibido leer. Porque leer obliga a pensar, y en el país de Montag está prohibido pensar. Porque leer impide ser ingenuamente feliz, y en el país de Montag hay que ser feliz a la fuerza...
Tim Hamilton convierte en imagen la visionaria distopía ideada por Ray  Bradbury a mediados del siglo pasado, sin saberlo mas quizá intuyendo la vigencia de una advertencia imperecedera.
ENGLISH DESCRIPTION
Now an HBO Original Movie starring Michael B. Jordan (Black Panther), Sofia Boutella (Star Trek: Beyond), and Michael Shannon (The Shape of Water).-An Eisner Award Nominee

"Monday burn Millay, Wednesday Whitman, Friday Faulkner, burn 'em to ashes, then burn the ashes."
 For Guy Montag, a career fireman for whom kerosene is perfume, this is not just an official slogan. It is a mantra, a duty, a way of life in a tightly monitored world where thinking is dangerous and books are forbidden.
In 1953, Ray Bradbury envisioned one of the world's most unforgettable dystopian futures, and in Ray Bradbury's Fahrenheit 451, the artist Tim Hamilton translates this frightening modern masterpiece into a gorgeously imagined graphic novel. As could only occur with Bradbury's full cooperation in this authorized adaptation, Hamilton has created a striking work of art that uniquely captures Montag's awakening to the evil of government-controlled thought and the inestimable value of philosophy, theology, and literature.
Including an original foreword by Ray Bradbury and fully depicting the brilliance and force of his canonic and beloved masterwork, Ray Bradbury's Fahrenheit 451 is an exceptional, haunting work of graphic literature.
About the Author
---
Ray Bradbury nació el 22 de agosto de 1920 en Waukegan, Illinois. Durante la Gran Depresión se trasladó con su familia a Los Ángeles, donde se graduó en 1938 en Los Angeles High School. Su educación académica acabó ahí, pero continuó formándose por cuenta propia hasta que en 1943 se convirtió en escritor profesional. Sus obras más conocidas son Crónicas marcianas (1950), El hombre ilustrado (1951) y Fahrenheit 451 (1953). Bradbury, además de novelas, también escribió innumerables guiones de televisión, ensayos y poemas. Su preocupación como escritor no solo se centró en cuestionarse el modo de vida actual, también se adentró en el reino de lo fantástico y maravilloso, con un estilo poético y a veces provocativo. En su niñez, Bradbury fue muy propenso a las pesadillas y horribles fantasías, que acabó por plasmar en sus relatos muchos años después. Murió el 5 de junio de 2012 en Los Ángeles, a los 91 años.
Praise For…
---
De Fahrenheit 451 se ha dicho...
«Bradbury es heredero de la vasta imaginación del maestro Poe.».-Jorge Luis Borges
«Incomparable. Un maestro en el delicado equilibrio entre ciencia y fantasía.».-C. S. Lewis
«La fuerza y la potencia de su original imaginación llenan de júbilo... Un talento mayor e insólito.».-Christopher Isherwood
«De entre todos los infiernos del conformismo, Fahrenheit 451 ofrece el retrato más convincente.».-Kingsley Amis