Jill's Top Picks for Picture Books.
A list of favorite picture books selected by Jill, the BMLP Content & Logistics, Manager.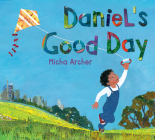 $16.99
ISBN: 9780399546723
Availability: Usually Ships in 1-5 Days
Published: Nancy Paulsen Books - May 14th, 2019
Daniel finds the poetry in the everyday activities of his own neighborhood, in this gorgeous companion to Ezra Jack Keats Award winner Daniel Finds a Poem.

---

$17.99
ISBN: 9781936669776
Availability: Usually Ships in 1-5 Days
Published: blue manatee press - September 3rd, 2019
"There's a party at Mr. Pumpkin's tonight. A banquet with friends in the autumn twilight. And at this soiree we'll see and we'll find ghoulish delights of every kind." You are cordially invited to Mr.

---

$17.99

ISBN: 9780525553366

Availability: Usually Ships in 1-5 Days

Published: Kokila - May 14th, 2019

"I love that Hair Love is highlighting the relationship between a Black father and daughter. Matthew leads the ranks of new creatives who are telling unique stories of the Black experience. We need this."
- Jordan Peele, Actor & Filmmaker


---

Email or call for price.

ISBN: 9780399555268

Availability: Special Order - Subject to Availability

Published: Doubleday Books for Young Readers - June 13th, 2017

In the beloved tradition of Robert Munsch's Love You Forever and Emily Winfield Martin's The Wonderful Things You Will Be comes a beautiful rhyming ode to babies from a New York Times bestselling author/illustrator duo—perfect for baby showers, first birthdays, and anytime babies are celebrated.
 

---

$17.99

ISBN: 9781481480390

Availability: Usually Ships in 1-5 Days

Published: Simon & Schuster/Paula Wiseman Books - October 1st, 2019

A Publishers Weekly Best Book of 2019
A Today Show Best Book of the Year
A Booklist Book for Youth Editors' Choice 2019
A Boston Globe–Horn Picture Book Honor Book 2020
An NPR Favorite Book of 2019
A Charlotte Zolotow Honor Book
A Quill & Quire 2019 Book for Young People of the Year<

---

$14.99

ISBN: 9781433830877

Availability: Usually Ships in 1-5 Days

Published: Magination Press - May 7th, 2019

A must-have primer for young readers and a great gift for pride events and throughout the year, beautiful colors all together make a rainbow in Rainbow: A First Book of Pride. This is a sweet ode to rainbow families, and an affirming display of a parent's love for their child and a child's love for their parents.

---

$18.99

ISBN: 9781626727465

Availability: Usually Ships in 1-5 Days

Published: Roaring Brook Press - October 22nd, 2019

Winner of the 2020 Robert F. Sibert Informational Book Medal
A 2020 American Indian Youth Literature Picture Book Honor Winner

"A wonderful and sweet book . . . Lovely stuff." —The New York Times Book Review


---

Email or call for price.

ISBN: 9780593093634

Availability: Backordered

Published: Penguin Workshop - June 4th, 2019

A magical lift-the-flap board book about a little girl and her unicorn BFF!

Join a little girl and her unicorn BFF for a day filled with magic and fun. The unicorn chases the rain away, makes the girl's sick teddy bear feel better, and turns reading into a truly magical experience, as words fly off the page. Having a unicorn BFF has never been better!

---

$18.99

ISBN: 9780316431279

Availability: Usually Ships in 1-5 Days

Published: Little, Brown Books for Young Readers - October 22nd, 2019

In this warm and tender story by the Caldecott Honor-winning creator of Thank You, Omu!, join a mother and daughter on an up-and-down journey that reminds them of what's best about Saturdays: precious time together.

Today would be special. Today would be splendid. It was Saturday! But sometimes, the best plans don't work out exactly the way you expect....


---

$17.99

ISBN: 9780316525213

Availability: Usually Ships in 1-5 Days

Published: Little, Brown Books for Young Readers - September 17th, 2019

In this hilarious tale of blame, compassion, and forgiveness, a very embarrassed bear is reminded that accidents can happen--but with the support of good friends, life goes on.


---

$17.99

ISBN: 9781452173184

Availability: Usually Ships in 1-5 Days

Published: Chronicle Books - August 27th, 2019

The brilliant follow-up to the Caldecott Honor-winning and New York Times bestselling picture book They All Saw a Cat by Brendan Wenzel!

A Stone Sat Still tells the story of a seemingly ordinary rock—but to the animals that use it, it is a resting place, a kitchen, a safe haven...even an entire world.


---

$17.99

ISBN: 9781250303172

Availability: Usually Ships in 1-5 Days

Published: Henry Holt and Co. (BYR) - May 7th, 2019

Meet Llama, the next great picture-book megastar, who has most definitely driven a bus and who loves tacos way more than you.

He also loves cake, and that's where our story begins.

On Monday, Llama discovers a pile of cake, which he promptly eats.
On Tuesday, Llama squeezes into his dancing pants, which he promptly rips.

---

$15.99

ISBN: 9781452170336

Availability: Usually Ships in 1-5 Days

Published: Chronicle Books - March 5th, 2019

"Readers will root for bighearted, small-armed Tiny." —Publishers Weekly


---

$17.99

ISBN: 9780735263543

Availability: Usually Ships in 1-5 Days

Published: Tundra Books - January 22nd, 2019

In this hilarious and clever "how-to," a little girl and a know-it-all narrator are thwarted by a cat who refuses to take a bath. The perfect read-aloud for fans of Snappsy the Alligator and Interrupting Chicken.

Step one: fill the bath
Step two: put the cat in the bath
Step three: put shampoo on the cat
Step four: rinse the cat
Step five: dry the cat

---